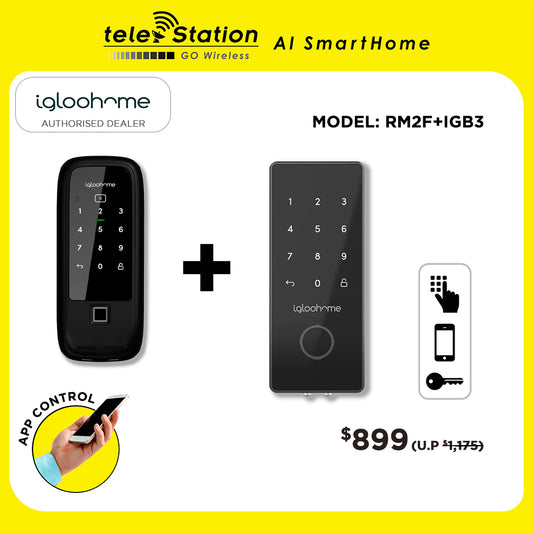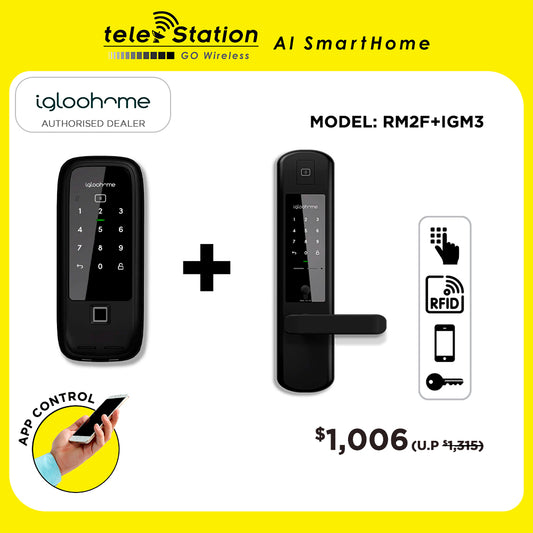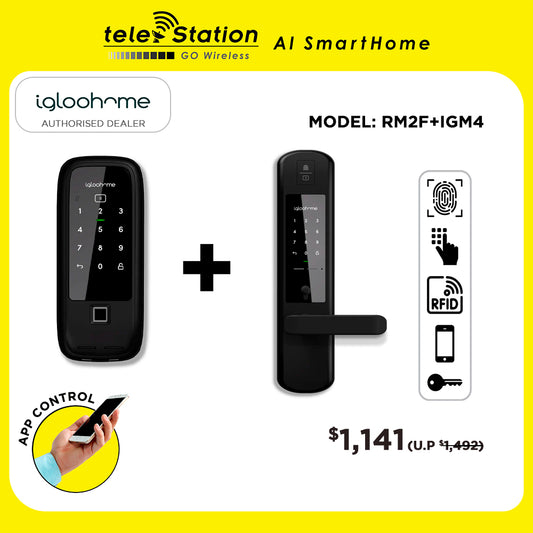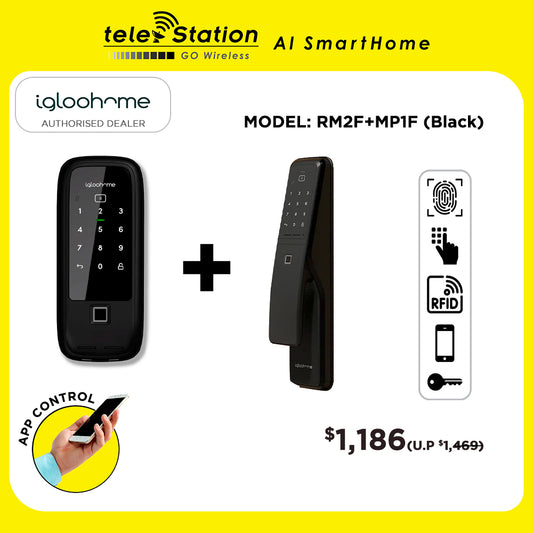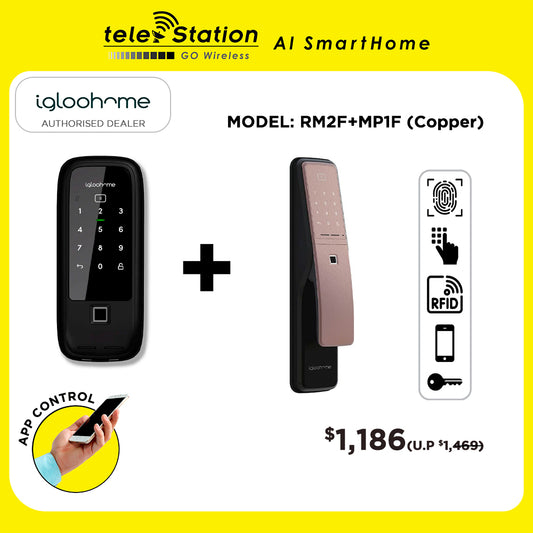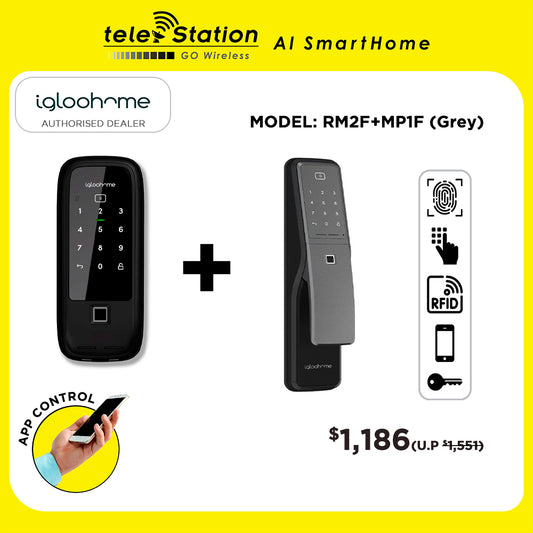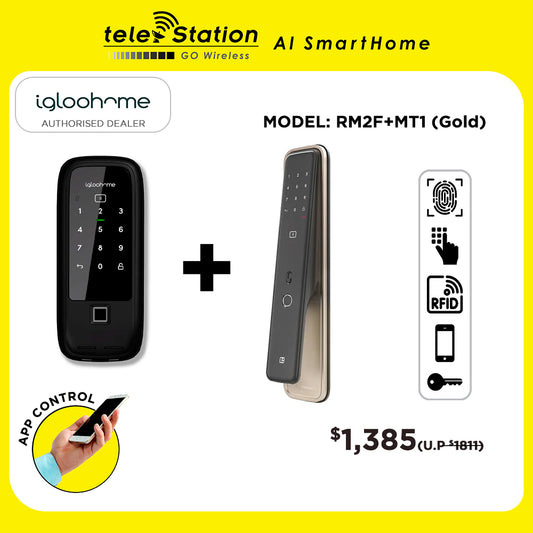 Igloohome Combo Deal: Metal Gate Lock (Fingerprint)
Igloohome
Choice
: with Smart Deadbolt 2S
Description

Gate Lock

The perfect complement to your smart door lock.

We've got your home's entrance covered. The Gate Lock is the best sidekick to any igloohome door lock. Up the ante on your home's security with double the convenience, say hello to the smarter way of life.

The smartest bundle you'll ever need.

No more unlocked gates or fussing with keys. Purchase the Gate Lock as a bundle with any igloohome door locks for a truly keyless experience. Simple, yet smart.

Unlock with your fingerprint.

We've got options for everyone. Use PIN codes, Bluetooth keys, RFID credentials to unlock; or pick the Gate Lock with Fingerprint for an added mode of access.

Control your locks remotely.

The Bridge is your gateway to stay updated on your home's access activity, or let guests in without missing a beat. You can also control your locks on the SmartThings app! Let's build a smart home ecosystem together.

One click is all it takes.

The Gate Lock comes with a complimentary Key Fob to unlock your gate and main door at the same time. Talk about convenience.

Convenience on the go.

All igloohome devices work with the igloohome mobile app. You can manage access to your property anytime, anywhere.

We're all about convenience.

Set up, operate and manage your igloohome devices with the mobile app. We're putting access in the palm of your hands. Available on the App Store and Google Play for free!

Powered by our unique algoPIN™ technology.

No need for key handovers, or having guests to download an app to receive time-sensitive PIN codes. It's total freedom from needing a WiFi connection for your lock to work.

Grant access remotely for every visitor and guest. These can be created on the go with our innovative algoPIN™ technology. You can simply share the codes via iMessage, WhatsApp, SMS, and more.

Kept in the loop.

Through the app, you can view activity logs to keep track of the comings and goings within your home.

PIN code activity logs are updated when you sync your app and the lock in Bluetooth range. Bluetooth unlocks are updated in real-time remotely.

Or you can stay in the loop 24/7 with the Bridge. View all activities on demand when you decide to take your lock online.

*WiFi connection is required.

Fingerprint

The Gate Lock (RM2F) comes with a fingerprint option as an added mode of access.

Auto Lock

Automatically locks once the gate is shut to give you greater peace of mind.

Sequential Unlock

Unlock both your gate and door at the same time.

Security Lockout

Keypad is disabled after several incorrect access attempts to ensure your property is always secure.

Low Battery Alert

Intuitive audio and visual alerts will prompt you to change the batteries when it runs now.

Tamper Alarm

The lock will sound an alarm if it is being pried from the door to alert and deter potential tampering attempts.

The Intrusion Alarm

The lock will sound off when the door is forced open while the bolt is forced open while the bolt is still extended.

Obstruction Alarm

The lock will sound an alarm if the bolt tongue cannot be extended or retracted fully to alert the user of any obstruction.

Emergency Jumpstart

Easily jumpstart the lock with a 9V battery if batteries are drained

Decay PIN Code

Heighten security and throw off onlookers by entering random digits before your actual PIN code.

Privacy Mode

Disable all modes of access except the Master Bluetooth key to prevent unwanted entries into your property.

Quiet Unlock

Mute audio indicators while unlocking for quieter access to prevent disturbance.

Volume Control

Adjust the volume according to your preference. Select from levels 0 (mute) to 5 (loudest).